Originally published at the NAAIJ on Aug 12th, 2014. Check the NAAIJ for most recent updates

Follow us on Twitter @NAAIJ
Like us on Facebook NAAofIJ
Check the bottom of the article for the most recent updates 08/17 'State Imposed Curfew' & Tear Gas
The situation in Ferguson has escalated in recent days following the murder of another unarmed black teen in America. A cursory search for 'unarmed black teen killed in America 2014′ yields about 6,000,000 results.
This teens name was Michael Brown. He was 18 years old, A Graduate of Normandy High School in St. Louis. He was scheduled to start classes at Vatterott Trade College yesterday.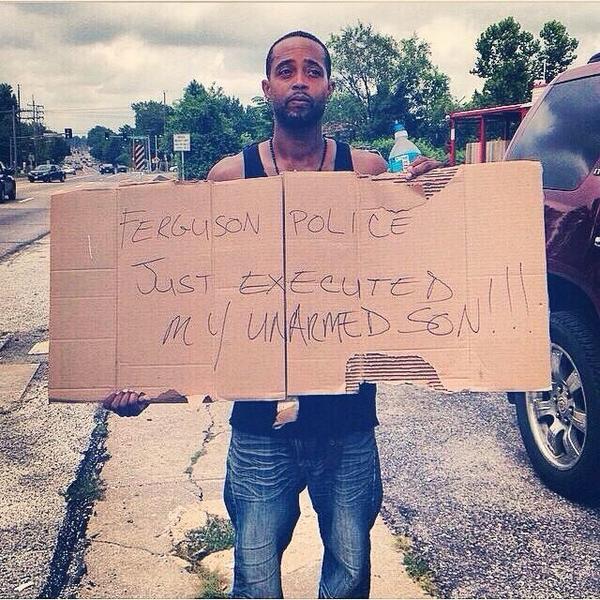 Michael was shot by Officer Darren Wilson of the Ferguson police multiple times while unarmed from a distance of at least 30 feet on August 9th. Officer Wilson was identified by Ferguson police on Aug 15th. According to witnesses Brown was shot with his hands up and then shot at least once while on the ground.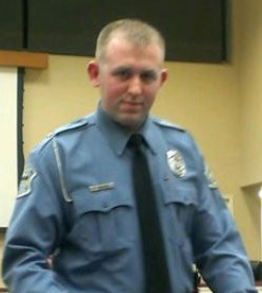 Officer Darren Wilson
Immediately following the shooting protests began, As night fell protests turned into looting and rioting. Images circulated on social media of black youth riding around with shotguns, presumably keeping police from killing any more unarmed teenagers.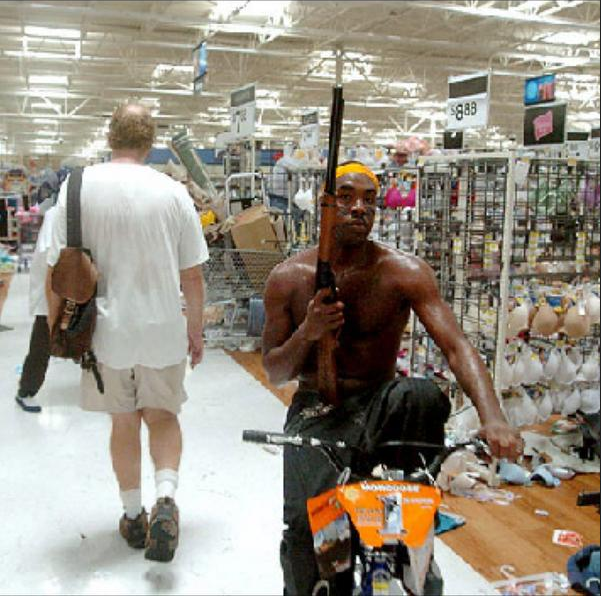 As a result of the unrest, Officially citing 'imminent hazard' for any aircraft. A No Fly Zone has been erected over the city and a standing city-wide 'Law Enforcement Operation' has been declared. While any danger to aircraft would be virtually non-existent (what has changed for objects traveling at such heights?) the true reason for the No Fly Zone is probably closer to 'damage control' and preventing any media with enough resources to have a helicopter from providing any coverage, assuming that media would even have enough sense to do so. After all, Robin Williams just died.
Some journalists of integrity were attempting to cover the unrest, And then this happened
According to the FAA the No Fly Zone restriction is in effect until August 18th.
The relevant legislation cited is as follows:
"Section 2.Temporary Flight Restrictions in the Vicinity of Disaster/Hazard Areas (14 CFR Section 91.137)
19-2-1.PURPOSE
This section prescribes guidelines and procedures regarding the management of aircraft operations in the vicinity of disaster/hazard areas in accordance with 14 CFR Section 91.137. TFRs issued under this section are for disaster/hazard situations that warrant regulatory measures to restrict flight operations for a specified amount of airspace, on a temporary basis, in order to provide protection of persons or property in the air or on the ground.
19-2-2.RATIONALE
TFRs in accordance with 14 CFR Section 91.137 are issued when necessary to:
a.14 CFR 91.137(a)(1) – Protect persons and property on the surface or in the air from an existing or imminent hazard associated with an incident on the surface when the presence of low flying aircraft would magnify, alter, spread, or compound that hazard."
In addition to a no fly zone Gov Nixon has implemented the first stages of Martial Law, Declaring a State of Emergancy and imposing a curfew on the population. From The Huffington Post:
"Missouri Gov. Jay Nixon (D) has signed an order declaring a state of emergency and ordering a curfew in Ferguson, he announced in a press conference on Saturday.
The curfew will last from midnight to 5 a.m., according to Capt. Ronald Johnson of the Missouri State Highway Patrol, who also spoke at the press conference.
"What we're doing now is not who we are," Johnson said amid shouts from community members during the press conference.
Johnson noted there would be no trucks or tear gas used to enforce the curfew. He acknowledged that tear gas had been used against protesters early Saturday morning, but said he did not order officers to take that action."
Wikipedia describes the implementation of martial law as follows:
"Typically, the imposition of martial law accompanies curfews, the suspension of civil law, civil rights, habeas corpus, and the application or extension of military law or military justice to civilians."
What is not being mentioned in most of the coverage. Is the justifiable rage felt by the wide range of innocent victims. Statistics of the nature of how many murders are committed by Police Forces for any given period of time are exceptionally hard to come by. For just 2014 in America alone I'll cite several cases.
According to the dispatch, Jacorey was fleeing at the time shots were fired. You can hear "And the male black, he actually fleeing. ." and then 8 shots. There in no mention of Jacorey having a gun, or attempting to cause any individual any harm. Just that he was "actually fleeing." According to Attorney John Burris who is representing the family, Jacorey was unarmed and shot in the head.

http://www.copblock.org/62546/the-male-black-is-actually-fleeing-bang-bang-bang-bang-bang-bang-bang-bang/

Garner, a 43-year-old father of six, was asthmatic; in a video recording of the confrontation, he gasps, "I can't breathe, I can't breathe" at least eight times as he is dragged to the ground and restrained. The Staten Island District Attorney's Office has launched a criminal investigation into Garner's death. Two NYPD officers were suspended after the incident, including Daniel Pantaleo, who initiated the assault, as well as four EMTs who failed to give Garner proper medical assistance. Pantaleo has a history of allegedly abusing his power; he has been sued twice for civil rights violations in the past two years.

http://www.commondreams.org/news/2014/07/23/scrutiny-over-nypd-tactics-after-chokehold-death-unarmed-man

Witnesses say that Denzel Curnell, 19, was shot and killed by a police officer while he was kneeling down with his hands placed behind his back. Denzel, also known by the nickname "Jaba" was completely unarmed. It all started last Saturday, when Curnell had an encounter with a police officer at the housing projects where he lived in Charleston, South Carolina. This encounter left the unarmed youth with a bullet in the head. On a broader level, it has raised a lot of unanswered questions in the community. None of the half dozen witnesses who saw the incident were willing to give their names to anyone interviewing them. They were all too terrified of the local police, who they describe as essentially assassinating the teen. All of the witnesses had the same story. Curnell was shot while kneeling and had no weapon.

http://politicalblindspot.com/another-unarmed-african-american-teen-shot-and-killed-by-police/

An unarmed, 25-year-old man not wanted for any crime was exercising his constitutional rights to move away from Anaheim Police Department (APD) officers when 20 seconds later one of the cops, armed with a semi-automatic Glock, decided without warning to kill him with shots to the buttock and back of the head. That's the story Dale K. Galipo, an attorney for the estate of Manuel Diaz, told a jury of six men and two women in his Feb. 25 opening statement at the excessive force and wrongful death trial inside U.S. District Court Judge James V. Selna's Santa Ana courtroom.
"Mr. Diaz had nothing in his hands," Galipo said. "He was no threat when he was shot [in the buttock]. As he was going down to his knees, there was a second shot to his head . . . Diaz landed face down. The officers handcuffed him, patted him down and didn't find a weapon. They never found a weapon."

http://blogs.ocweekly.com/navelgazing/2014/02/anaheim_manuel_diaz.php


Video of a police standoff contradicts the initial Pinal County Sheriff's Office description of the chain of events that led to the shooting death of a suspected car thief. The man had led police and sheriff's deputies on a chase through Casa Grande and Eloy for nearly an hour, before deputies immobilized the car he was driving. A witness shot the video on a cell phone. It shows the final moments of the standoff, when deputies were ordering Manuel Longoria to surrender. The deputies had their weapons drawn and fired five bean bag rounds at the suspect, in addition to Taser rounds. Longoria appeared to be moving his arms around, and did not appear to be cooperating with the deputies. Seconds later, the video shows Longoria turn his back on the deputies and raise both hands into the air, high over his head. One second later, a lone deputy fired two shots, killing Longoria.

http://www.sott.net/article/272730-Arizona-Cops-shoot-and-kill-unarmed-man-with-his-hands-in-the-air

A grand jury decided not to indict the North Caorlina police officer who shot and killed Jonathan Ferrell–a 24-year-old black man who had just been in a car crash, had committed no crime and was unarmed. Randall Kerrick, an officer with the Charlotte police force, killed Ferrell when he discovered the disoriented man on a nearby front porch. The homeowner evidently believed Ferrell–a former college football player–was trying to break into the house. In reality, he had just survived a car crash, and was asking for help.

http://dailycaller.com/2014/01/22/unbelievable-no-indictment-for-cop-who-killed-innocent-unarmed-man-after-shooting-him-10-times/#ixzz3ADOIizBO

Jordan Baker, a 26-year-old Houston Community College student and father, "took his last breath in a trash-strewn alley behind a Northwest Houston strip center" on Thursday, January 16, all because he was a black man wearing a hoodie. Houston police officer J Castro, an 11-year veteran who was moonlighting as a security guard for the strip mall that night, was on the lookout for hoodie-wearing armed robbery suspects. Castro says Baker, who was unarmed, matched the description and he shot and killed him as a result. The police version of events, as reported by the local ABC affiliate, follows the predictable "he wasn't cooperating and the cop was scared for his life" script:

http://raniakhalek.com/2014/01/26/unarmed-man-shot-and-killed-by-houston-cop-for-wearing-a-hoodie-while-black/

A police officer in Texas shot and killed an unarmed woman over the weekend, sparking an investigation after it appears the officer may have lied in his initial statement. .. Officials initially said that 48-year-old Smith answered the door with a firearm in her hand when police officers responded to calls about Smith's boyfriend and his son, who were arguing about a gun that was at another location. The original statement claimed that Deputy Daniel Willis shot Smith after she continued to disobey orders, but now that neighbors are speaking out and an investigation has begun, police were forced to issue another statement. A second statement to the press revealed that the police were never able to confirm that Smith had a gun in her hand, nor was a gun located at the scene.

http://atlantablackstar.com/2014/02/21/texas-police-officer-shoots-kills-unarmed-woman/

This week in Oklahoma police responded to a call at a movie theater in Moore, OK which was a report of a domestic dispute between a mother and daughter. When police responded they approached the father, Luis Rodriguez, assuming he was the perpetrator of some form of abuse, and confronted him by demanding he present his papers. When he tried to walk away he was again confronted and when he refused he was jumped by 5 officers, pepper sprayed in the mouth and eyes, and was beaten to death. The wife caught the end of the assault and his actual death on her cell phone, yet no criminal charges have been filed against the police who claim they used necessary force after he took a "defensive stance".

http://thedirty.com/2014/03/5-cops-beat-unarmed-latino-to-death-in-oklahoma/
As a result of the international headlines and thousands taking to the streets, The FBI has taken an interest in this government sanctioned homicide.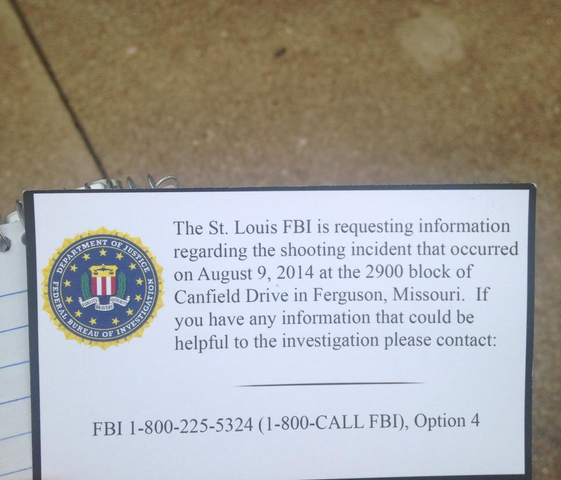 US Attorney General Eric Holder has ordered the Department of Justice to conduct an additional autopsy, to be performed by a federal medical examiner. This will show how many times Brown was shot with his hands up or while not facing the officer or while already deceased on the ground. According to witness reports shots were fired by Officer Darren Wilson that exactly match each of those descriptions.
Perhaps it's about time for citizens to start considering firing their police force like the city of Hampton, Florida did. Albeit their issue was rampant corruption – not rampant psychopathy and racism and a tendency to commit murder.

The Reddit community has been compiling live updates here
A few videos recorded from a Livestream Broadcast are available on this Livestream: http://new.livestream.com/accounts/9035483
A witness account of what occurred has been posted here
Courtesy Steve Silver
"I have and know the full story…along with the dispatch release. Michael Brown and his friend were walking down the street, the cop pulled up and said "Get the fuck off the street and onto the sidewalk" Mikes friend told the cop "We're only going right down the street". Cop chilled for a few seconds and drove away, got mad and drove back. Boys still not on sidewalk. Opened his car door while vehicle was in motion and hit Michael, slamming the door of course. The cop then grabbed Michael by the throat while still in the car and tried to pull him in. Cop said "Stop resisting or I'm going to shoot you". Michael Brown pushed off and away from the car. While still in the car, cop shot Michael Brown 1 time. The boys ran, cop got out and started to chase them, then shot Michael Brown in the back…Michael Brown turned around threw his hands up and went to kneel down. Cop then fired 4 more shots hitting Brown in the head and chest. The Police Department didn't even know about it. They found out via the news calling and telling them. They shipped the shooter off immediately and people flipped out…"
The YouTube user StormCloudsGathering has posted video of the friend collaborating this, The narrator also points out many other relevant details.
A cell phone video of the immediate aftermath of the shooting and some more context from witnesses has been made available by CNN here.
(Many thanks and much respect to @TimCast of VICE News for Livestreaming this perspective. All images except for the one above are stills from his Livestream
I noted the time each image was captured and have created the following timeline of events.
On the first night of the curfew 43 minutes passed before police gave the following warning several times over a megaphone:
"You're violating a state imposed curfew. You must disperse peacefully or you will be subject to arrest and or other actions. You're violating state imposed curfew. You must disperse.
Failure to comply may result in arrest and/or other actions"
This was the scene at 12:36AM
(Image stills from TimCast Livestream)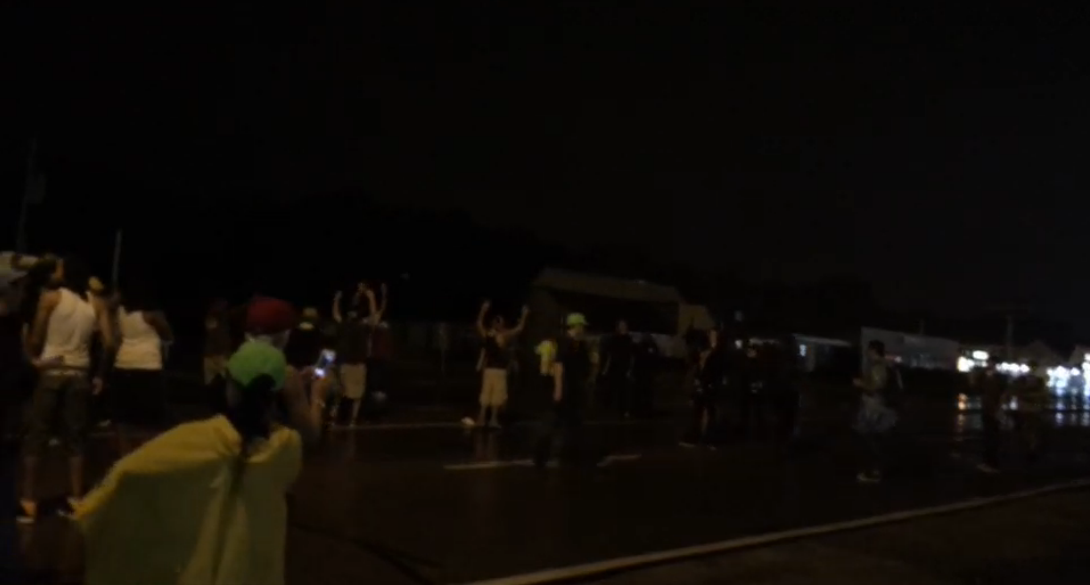 And at 12:52AM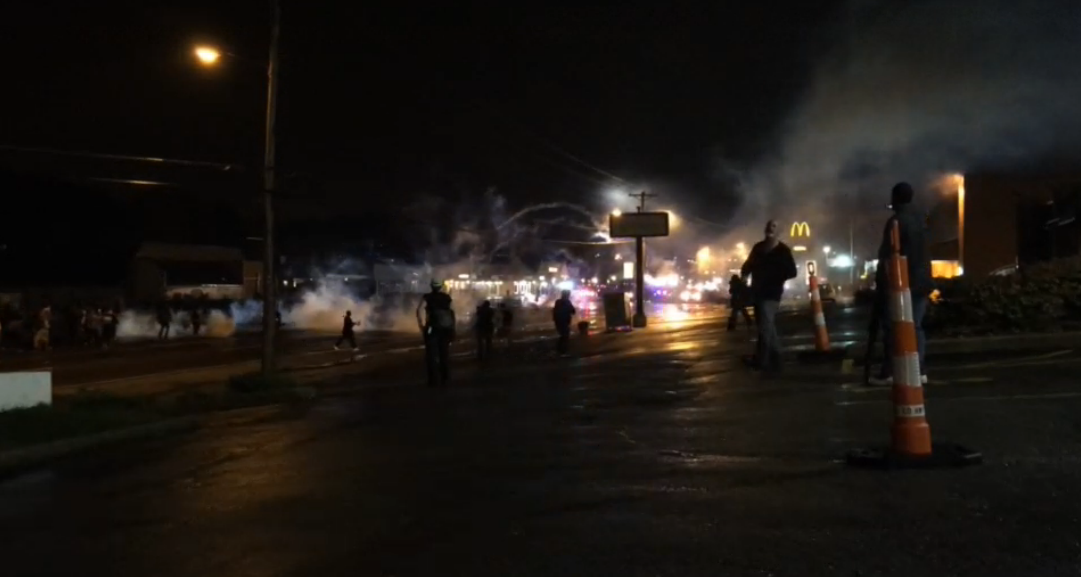 The very first gas canister was fired at about 12:48AM, 5 minutes after the warning was given.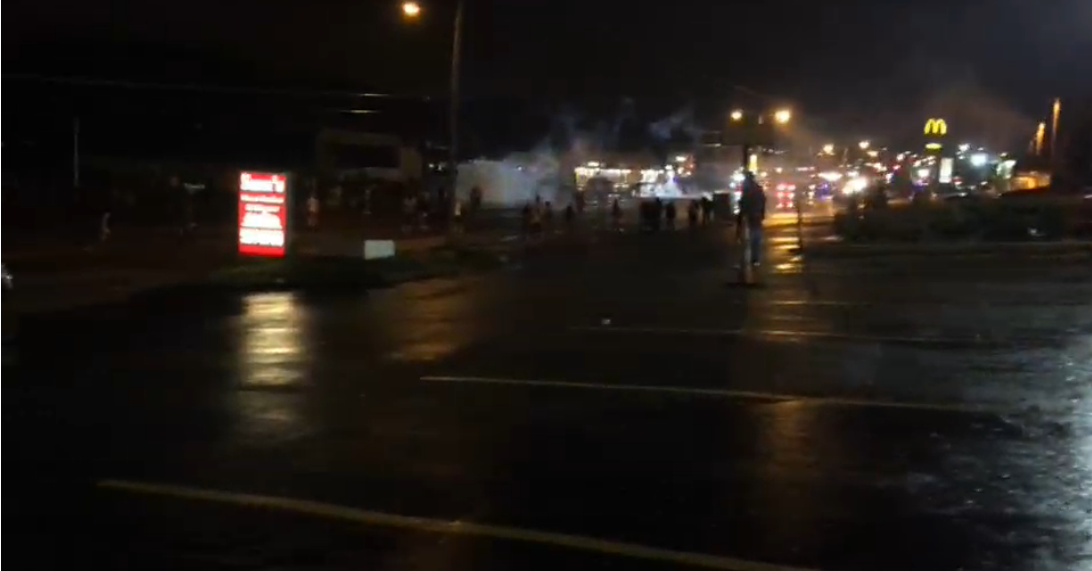 Rubber bullets were fired at 12:50AM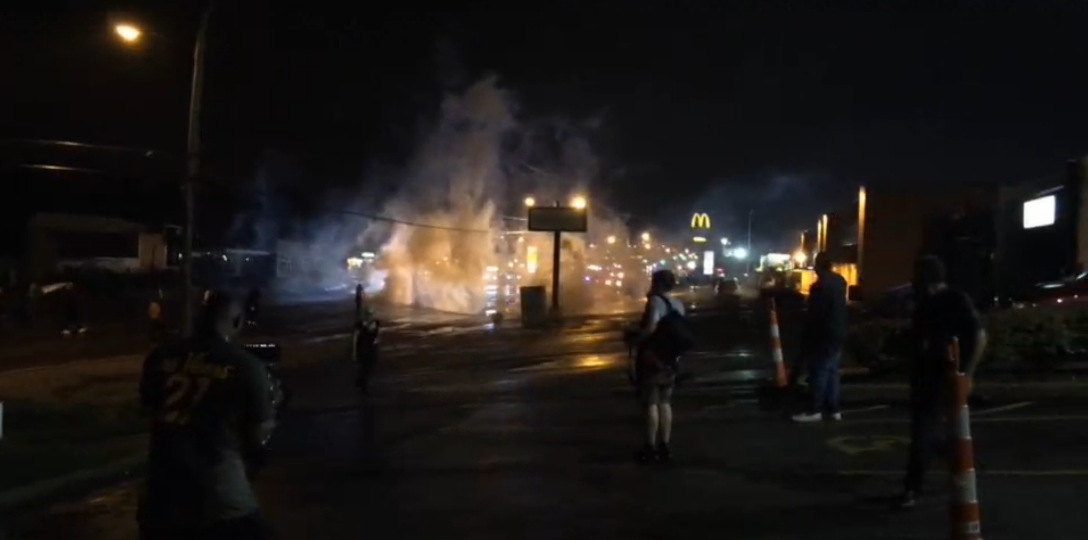 At 12:54AM there is what sounds like possible live ammunition fire. Shell casings from .40 Calibre rounds are observed later.
At moment later this is the scene (12:55AM)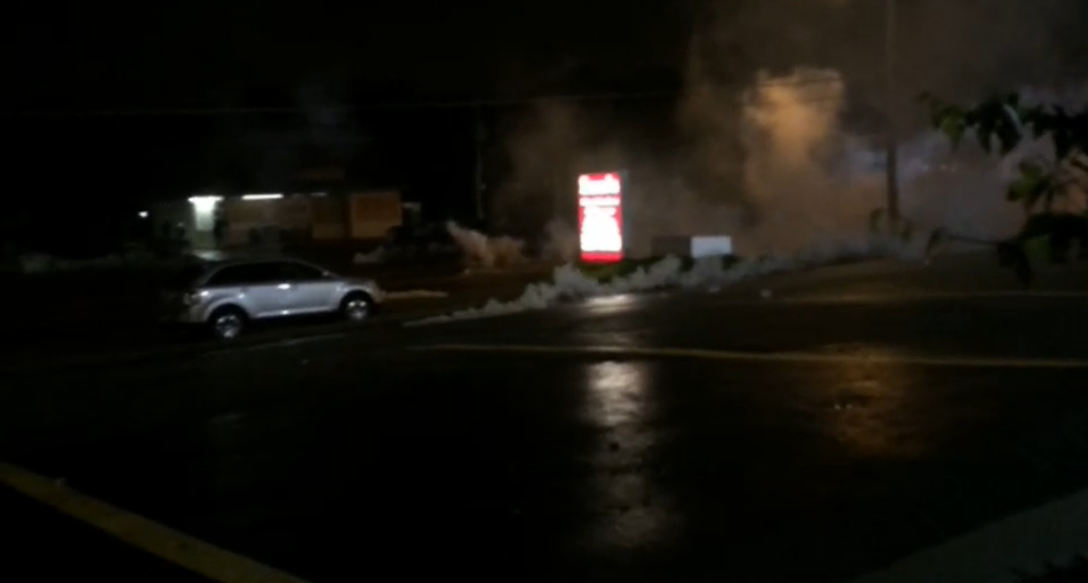 At 1:03AM a LRAD Sound Cannon can be heard in use.
At 1:15AM two people were arrested, This is an image of them being handcuffed and placed into vans.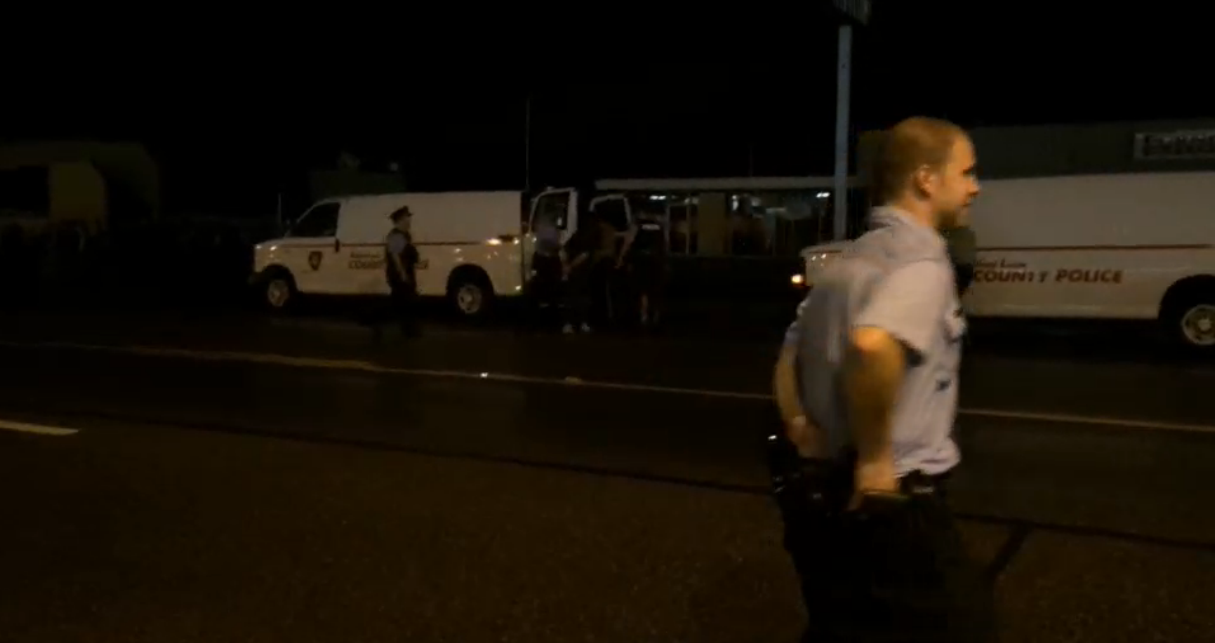 In total 7 people were arrested. During the police response one person was shot. The male victim is in critical condition.
This is a breaking story. More details may emerge and this article may be updated.
Nigel Todman is an Independent Journalist, Technical Consultant, Social Activist, Web Developer and Computer Programmer from Ontario, Canada. Nigel is also the Assistant Webmaster for the NAAIJ. Add him to Facebook and/or Follow him on Twitter E-mail: nigel [at] naaij [dot] org [PGP]