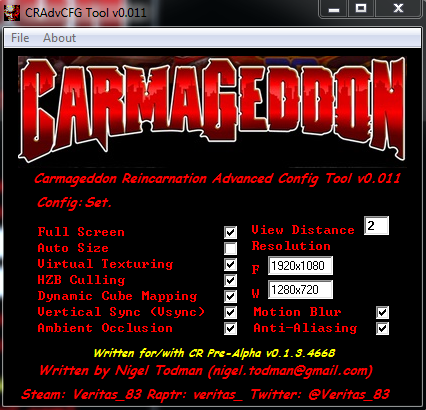 Download http://www.mediafire.com/download/1ldlzgyhd96ld1i/CRAdvCFGv011.rar

CRAdvCFG v0.011

Carmageddon Reincarnation Advanced Config Tool v0.011

DEBUG RELEASE, READ ONLY

CRC32//CRAdvCFG.exe//5634D632

Updates: http://nigelt.wordpress.com

Steam: Veritas_83
Raptr: veritas_
Twitter: @Veritas_83
This is a read only debug release. Detects your steam path and assumes you installed to default folder.
Supports very few settings at the moment. Only spent about 10 minutes on it so far. (on v0.01)
** Requires Administrator permissions to access \Program Files\ **
Changelog
———
v0.011 04-21-2014
Added Carmageddon Reincarnation version designed with/for
Added Window/Fullscreen Resolution Detection
Added Motion Blur Detection
Added Anti-Aliasing Detection
Debug build. READ ONLY!
v0.01 04-20-2014
First Release!
Everything is new.
Debug build. READ ONLY!
Download v0.011 http://www.mediafire.com/download/1ldlzgyhd96ld1i/CRAdvCFGv011.rar
Download v0.01 http://www.mediafire.com/download/dp79clj5bjccdd3/CRAdvCFGv0.01-VERITAS.rar